What Is Silicon Capacitors | Luckvenie
Silicon Capacitors: Unlocking the Potential of Semiconductor Technology
In the vast realm of electronic components, capacitors play a pivotal role in storing and releasing electrical energy. These devices have been an integral part of electronic circuits, facilitating various functions from filtering and decoupling to energy storage and power factor correction. While traditional capacitors have long relied on dielectric materials like ceramics, tantalum, or electrolytic fluids, a new class of capacitors has emerged in recent years - silicon capacitors.
Silicon capacitors, as the name suggests, employ silicon as their primary dielectric material. Silicon, a versatile and widely used semiconductor, has proven to possess intriguing properties that make it an attractive choice for capacitor technology. By capitalizing on silicon's unique characteristics, engineers have succeeded in developing capacitors with enhanced performance and improved reliability.
One of the key advantages of silicon capacitors lies in their ability to integrate seamlessly with existing silicon-based electronic systems. By leveraging the well-established fabrication processes used in the semiconductor industry, silicon capacitors can be easily manufactured alongside other integrated circuit components. This integration not only simplifies the overall manufacturing process but also enables the creation of miniaturized capacitors that can be densely packed into small form factors, crucial in modern electronic devices where space is often limited.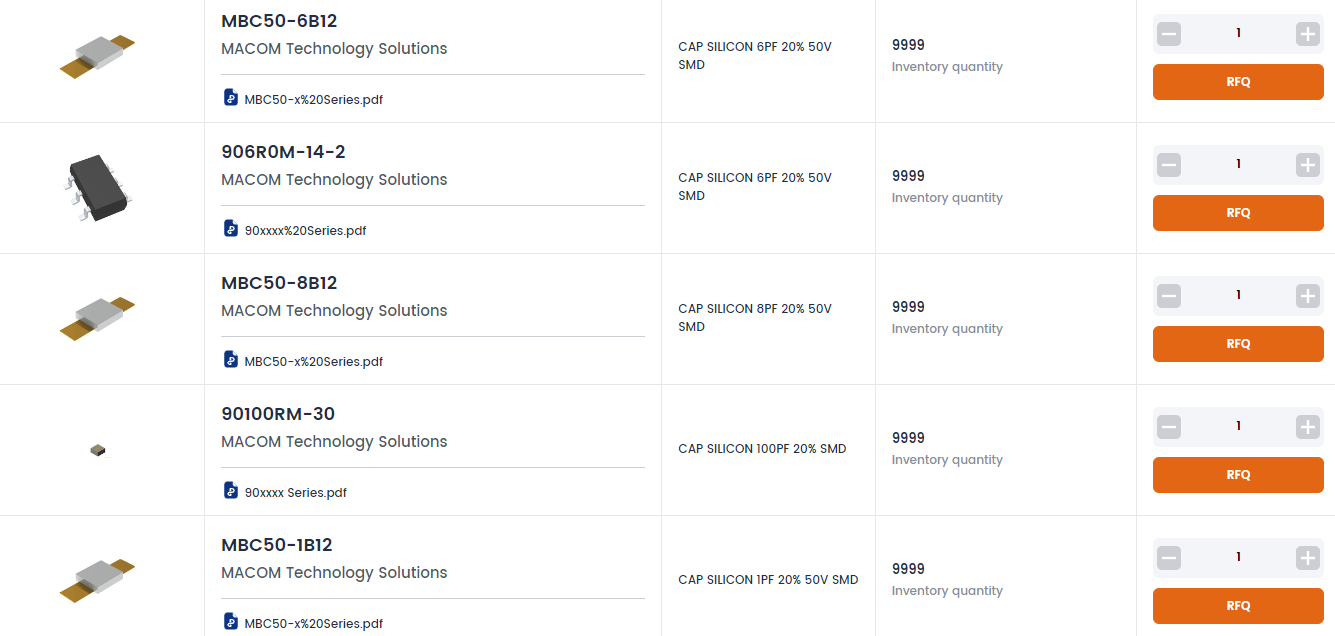 Furthermore, silicon capacitors offer exceptional stability over a wide range of operating temperatures. Silicon's temperature coefficient of capacitance is significantly lower compared to traditional dielectric materials, ensuring that the capacitor's performance remains consistent even in harsh environments. This stability makes silicon capacitors ideal for applications where reliability and longevity are paramount, such as automotive electronics, aerospace systems, and industrial control equipment.
The inherent properties of silicon also grant these capacitors excellent electrical characteristics. Silicon's high breakdown voltage allows silicon capacitors to withstand higher voltages without failure, making them suitable for high-voltage applications. Additionally, silicon capacitors exhibit low leakage current, ensuring that the stored charge remains stable over time. This low leakage current, coupled with their low equivalent series resistance (ESR) and equivalent series inductance (ESL), results in capacitors that offer minimal energy losses and high efficiency.
Moreover, silicon capacitors have gained attention for their remarkable frequency response. Thanks to silicon's low loss tangent and high dielectric constant, silicon capacitors exhibit minimal losses and exhibit stable performance across a broad frequency range. This attribute makes them highly desirable in applications demanding precise filtering, impedance matching, or energy storage at high frequencies, such as telecommunications, RF circuits, and power electronics.
In addition to their technical advantages, silicon capacitors also contribute to the ongoing pursuit of sustainability in the electronics industry. With the growing focus on reducing environmental impact, the demand for eco-friendly components is increasing. Silicon capacitors, being silicon-based, are more environmentally friendly than capacitors that utilize toxic or rare materials. Furthermore, their extended operational lifespan and improved reliability reduce the need for frequent replacements, minimizing waste and conserving resources.
Despite their numerous benefits, silicon capacitors do have some limitations. One of the challenges in silicon capacitor design lies in managing the trade-off between achieving high capacitance values and maintaining low leakage current. This trade-off is a consequence of silicon's relatively low dielectric constant compared to certain alternative materials. However, ongoing research and development efforts are continually pushing the boundaries, aiming to enhance the capacitance capabilities of silicon capacitors without compromising their other advantageous properties.
In conclusion, silicon capacitors represent a significant advancement in the field of capacitor technology. Through the utilization of silicon as the dielectric material, these capacitors offer superior performance, enhanced reliability, and seamless integration within existing silicon-based systems. With their stability, efficiency, frequency response, and sustainability, silicon capacitors are poised to revolutionize a wide range of industries, driving innovation and shaping the future of electronic devices.